Darnell heads up the pastry department of the luxury Dakota Delux Hotel in Glasgow and has been a chef for 6 years.
She started at the famous Old Course Hotel of St Andrews as a commis chef, where her instincts later led her on into the pastry kitchen. She actually did a degree in fine art, but on completion she really wanted to travel the globe, and felt food would be a really great way for her to do that, as its a job you can do anywhere in the world, and I assure you anyone anywhere in the world would be more than happy to experience her cooking!
She views her dishes and works in the pastry department as her art pieces, and you can really sense it when you are with her, the creativity just flows forth, and to watch the pride she takes in her work is just something else altogether. It's so interesting to have this level of creativity working with your product. She said that she finds Mossy's is a great product to work with, and so tasty.
One dessert she has recently developed with Mossy's is Olive oil and Pistachio Cake.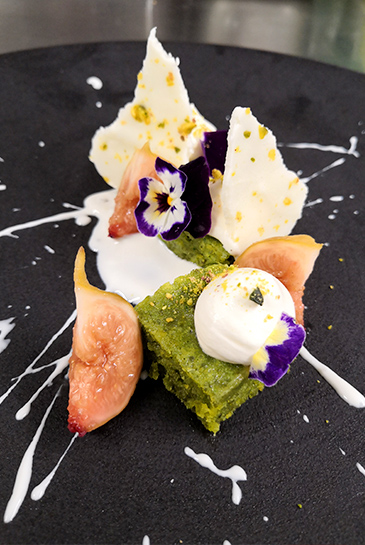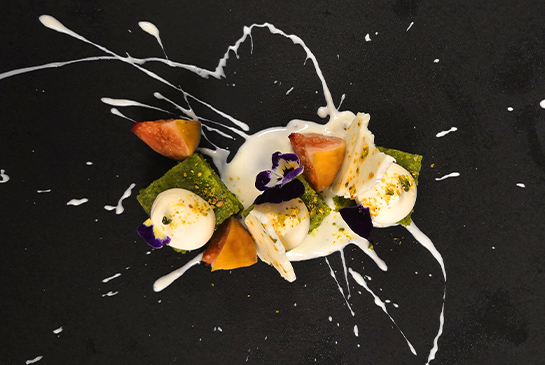 This beautiful creation is just a taste of what Darnell Mather is capable of!  This is her own creation and secret Olive Oil & Pistachio Cake served with lightly poached fig, crushed pistachio and Mossy's Original. She has used the Mossy's in three different ways here!
---
Mossy's Original Fresh
In its purest form on the bottom of the plate
Mossy's Original Frozen Shards
Garnished with passion fruit. For this, you simply spread Mossy 's about 5mm thick over some greaseproof paper, and then you garnish it with whatever you like. Here they have garnished with passion fruit seeds, and then you place in the freezer until frozen. Once it's frozen you break up into random shard shaped pieces, and they are great for garnishing a dessert or as a light and beautiful probiotic snack!
Mossy's Original Chantilly
Here they have spiked Chantilly cream with Mossy's and used it for garnish as well.
---
"Mossy's is such a great product to work with and because it is so tasty we didn't really have to add anything to it in this dessert, I just kept it as it is, as we really wanted it to stand out against the pistachio and the fig."
Darnell Mather
---
It certainly did stand out! What a beautifully refreshing and incredibly tasty dessert that also looks truly stunning.