World-renowned Michelin Star Chef; Tom Kerridge has now started serving Mossy's in his famous 2 Michelin star pub; The Hand & Flowers, and says its 'Proper Lush!'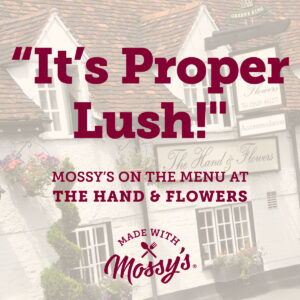 Tom Kerridge opened the pub; Hand & Flowers in 2005 with his wife; Beth Kerridge and within a year gained his first Michelin star.  In the 2012 list, he won a second Michelin star, making it now the only pub to hold two Michelin stars.
Tom is adored the world over for his unique and fun approach to cooking, and the flavours he creates are just insane.  He is especially renowned for his triple cooked chips, and my mouth is starting to water even just talking about them!  Tom hasn't got there without the serious hard graft though.  The world of cheffing is undoubtedly one of the most physically demanding world's to enter, but when you have as much love and passion for cooking as Tom you can rise above all of that.
He gained massive experience in his early career working for the likes of Gary Rhodes, and then first became a Head Chef in 2001, where he worked 17 hour days, but says the buzz of completing the service and finishing late at night is incredible.  Today Tom has five of his own massively successful pubs and restaurants and is regularly greatly received on TV shows such as Great British Menu, Masterchef, Saturday Kitchen, and now even his own Saturday morning show.
To have such an acclaimed chef launch Mossy's on his breakfast menu at his most famous pub is truly humbling and is another massive milestone along the Mossy's Journey!